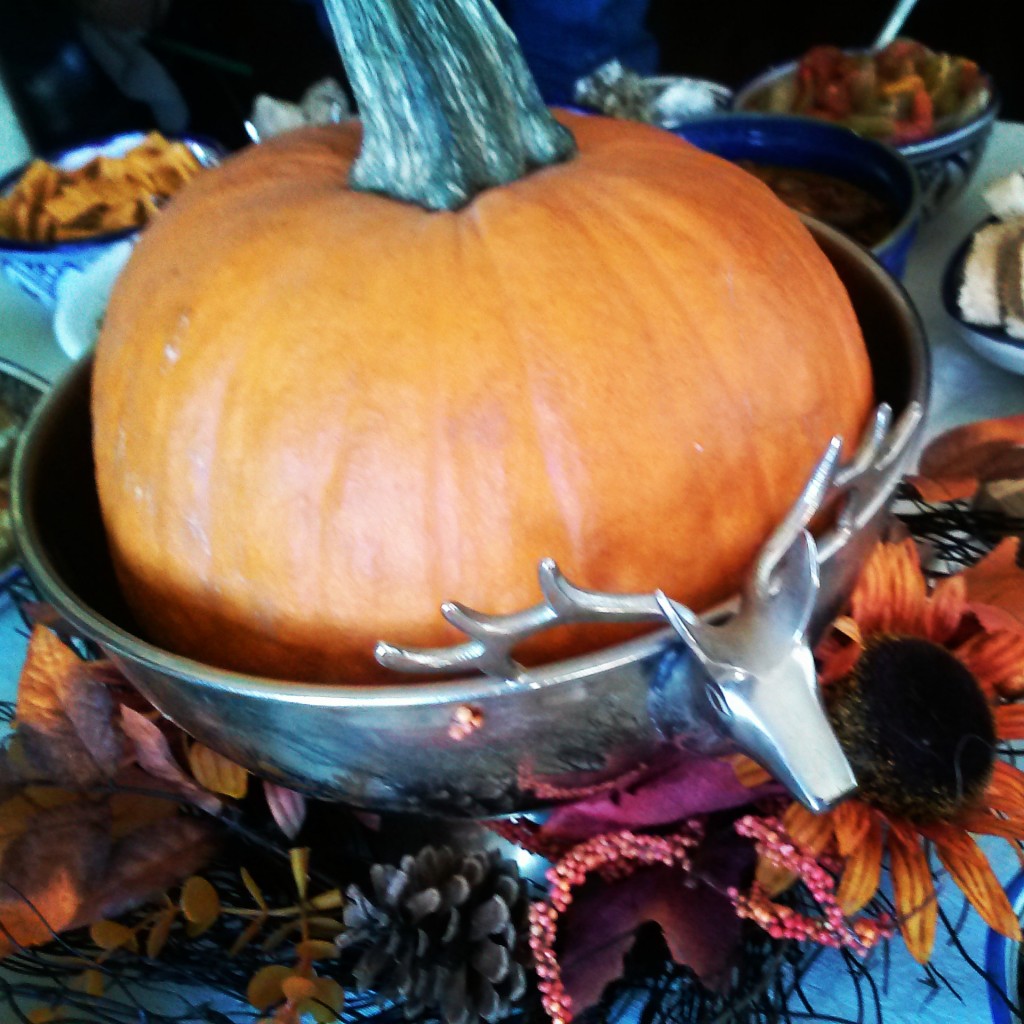 This year, we're doing something different. I'm a little bored with traditional menus, and we'll have family in and out over the course of the day, so I've decided to do an all-day sideboard instead.
This was a hard year for local food; I was working very long hours and had various personal crises going on over the summer and just didn't do as much as I wanted to. But I have some produce in the freezer and pantry, a few home-canned pickles and spreads; I just had a fall lamb delivered yesterday; and I've found new resources for affordable imported artisanal foods in the last few years.
I'm so grateful. Grateful for a family that is intact and healthy, for dear friends, for a good job and for better opportunities on the horizon, for a beautiful house and for beautiful things in it, for a rich intellectual and creative life, for enough money to buy sausages from Italy and wine from Spain and organic lamb from my neighbors. To have all of these things, all at once, seems almost too good to be true.
Antipasto
artisanal salami, cappacola, and pancetta
various cheeses and olives
imported, from the farm market and the Italian specialty grocer in Pueblo,
both longtime local businesses 
sardines – smoked mussels
peperoncini
home-pickled from farm market peppers
devilled eggs
crepe purses with squash-pecan filling
Bruschetta
fresh bread
local chevre
escalavida (roasted vegetable salad)
pesto – tapenade – onion relish
mushrooms in garlic sauce
smoked salmon
baked brie with cherry preserves
Hot dishes

1pm
roasted artichokes – pork riblets in paprika sauce
artichoke recipe from Francisco Martínez Montiño's Arte de Cozina
2pm
pinchos – grilled scallions
not actually Calçots, but it's the idea of the thing.

3pm
meatballs in saffron sauce – shrimp, spinach, and pine nut empanadillas
hot recipes, except where otherwise noted, out of Penelope Casas' excellent
Tapas: the little dishes of Spain
5pm
Sweet
apple and dulce de leche empanadillas – Pumpkin-pecan cheesecakes
stuffed nut cookies – figs and strawberries braised in red wine
 There will be a header picture tonight, once I'm in the thick of the cooking!